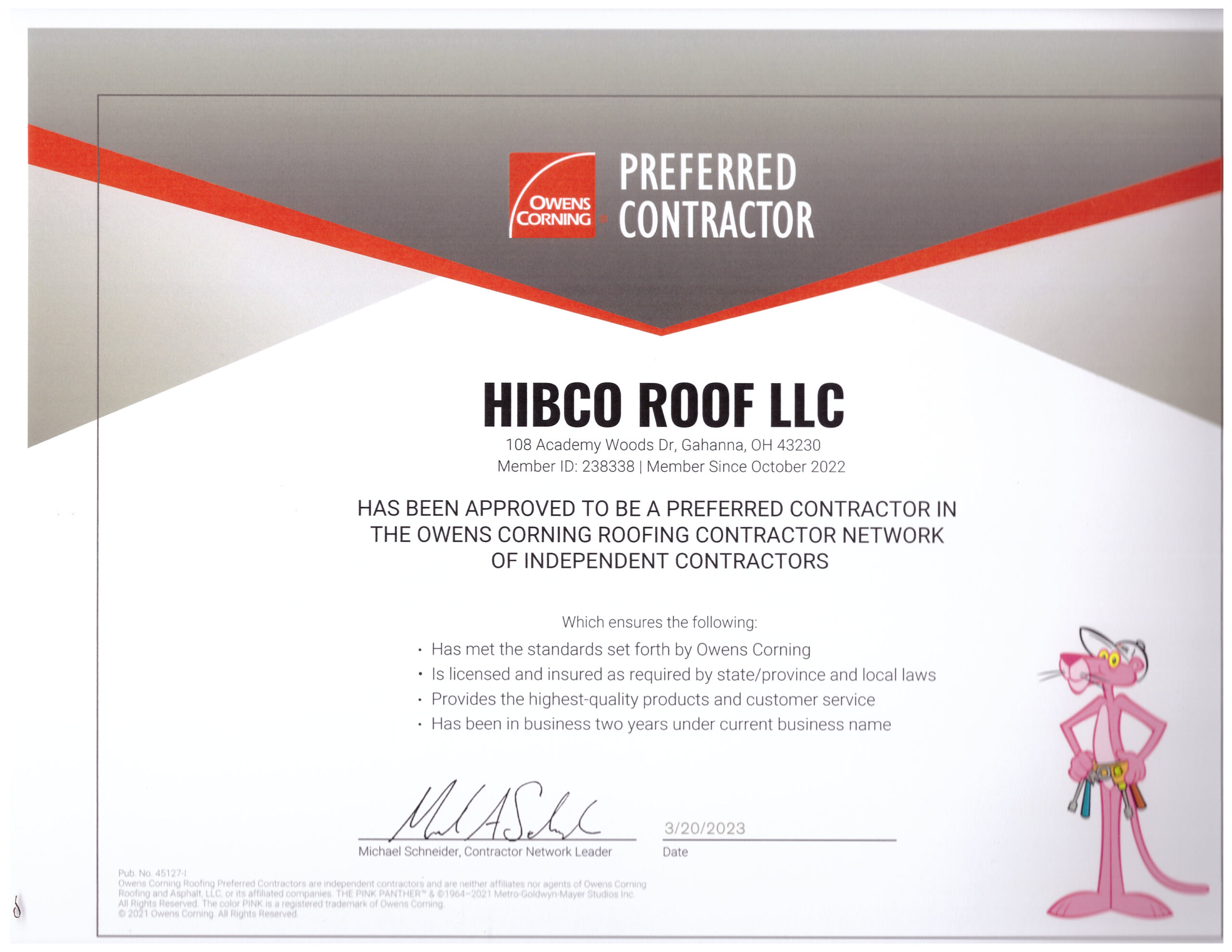 Although HIBCO ROOF LLC accepted this recognition some time ago, we are so honored to share this achievement from the most trusted brand in the world. Roofing contractors only with the highest standards of quality control and adherence to advanced roofing performance receive this honor. We thank Owen's Corning for entrusting us with this designation. Thank you Owen's Corning we vow to continue our efforts to only provide the highest quality roofing systems in all the areas we service.
We just couldn't pass up this opportunity to let the world know. Owen's Corning, the most trusted brand in roofing, has recognized HIBCO ROOF LLC as a preferred roofing contractor. So very few roofing companies are honored with such recognition. This is a testament to all our hard work, providing homeowners with nothing less than the highest quality roofing systems, never substituting lower quality components to make a few more dollars. When you provide quality from top to bottom it pays off for the homeowner as well as for us.
Never settle for a cheap generic roofing system, even if the shingle has a brand name. There are over a dozen components on every roof. If only one of them is worthy, you still end up with a substandard roof. Is that what you want as your #1 main line of defense from the weather? Of course not.
Our homes are one of the largest investments we will make in our lifetime. This is why we must protect it with a proven system, all designed to work together as one complete unit. If we let some roofer sell us only on a shingle, not knowing what else they're doing, we could easily wind up with major headaches down the road.
Put your trust in us. We promise to only install the best roofing materials, all designed to work together, so you can have the most peace of mind every homeowner deserves. Do not settle when protecting your most valuable asset.
Call us today 614-810-0050